<![if !vml]>

<![endif]>
Author: Noy Saycocie
Home page: http://noysaycocie.tripod.com
Email: noysaycocie1@yahoo.com
Created: 09/01/2002
Finished: 09/03/2002
Updated: 09/25/2002
Programs that I used:

Adobe Premiere v6.5

Kbuilder v3.5.19 Demo allows only one minute in Adobe Premiere

Nero v5.9
Lao font:

My modified Lao Fonts Size 136kb

Kbuilder uses these keys

and

in the program, so we can not use these keys.
To correct this problem, I've modified the Lao font. I moved these three characters
And place them as shown below.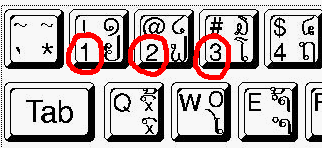 To use these characters:
Hold SHIFT and click 1 for

Hold SHIFT and click 2 for

Hold SHIFT and click 3 for

--------------------------------------------------------------------------------------
Click

to view Karaoke Sample Size: 2.82 Mb
-------------------------------------------------------------------------
<![if !vml]>

<![endif]>
<![if !vml]>

<![endif]>
<![if !vml]>

<![endif]>
<![if !vml]>

<![endif]>
<![if !vml]>

<![endif]>
<![if !vml]>

<![endif]>